Welcome
New dogs at GSGSR!
New boy,
Daiko
, is ready for adoption.
» See Daiko
Volunteer of the Month
» Our October Volunteer of the Month is Sarah Antal! Read more.
Welcome to the California Golden State German Shepherd Rescue Website. We are based in the San Francisco Bay Area of Northern California.
Golden State German Shepherd Rescue is a 501(c)(3) nonprofit charitable organization. We are a small group of volunteers and have no paid staff, facility, office or kennel. Our volunteers are located mainly in the San Francisco Bay Area.
Our mission is to help German Shepherd Dogs in life-threatening situations, and to educate the public about this highly intelligent and versatile breed. Most of the German Shepherd Dogs we rescue come from the Northern and Central Valley regions of California .
Rescue is not simply taking animals out of shelters; it is also providing that animal with the opportunity through health care, behavioral and emotional assistance, to live out its life in a caring and loving home. Our goal is to find loving new homes for German Shepherd Dogs who are in need of a second chance; most of them have come from animal shelters in Northern California, where they have run out of time.
While we welcome the challenges that rescue work provides, it is not work we can do alone. We need help in the form of people and financial resources. Please consider joining us as a volunteer, a donor, or in any other manner in which you feel you can help. Your participation will be greatly appreciated by us, but - more importantly - by the dogs waiting for our help.
Golden State German Shepherd Rescue Video
Click here
to see the wonderful video our volunteer Ken Zukin made to show GSGSR dogs and volunteers in action on the road from rescue to adoption.
2014 Calendars from GSGSR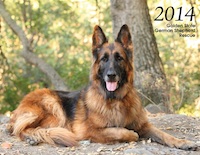 Our 2014 GSGSR Calendars are here now! Use the order form below to purchase yours, or pick one up in person at one of our Adoption Events.
Order yours today!
Click here to see our latest newsletter.
Follow @GSGSRescue