Donate Vehicles
Donating your car, truck, motorcycle, boat or recreational vehicle can serve the financial needs of GSGSR and provide a valuable tax deduction for you. We have made arrangements with Car Program LLC, a firm that specializes in handling vehicle donations. They will: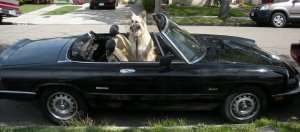 Pick up your vehicle
Prepare it for sale and deliver it to auction
Handle all the DMV transactions
Give you a receipt so you may deduct the appropriate amount from your taxes
Forward the proceeds after expenses to Golden State German Shepherd Rescue
To donate your vehicle, please print and fill out the vehicle donation form and then fax or mail it to Car Program LLC. A representative will call you to schedule the pick up of your vehicle. If you have any questions, please call the Car Program at 1-800-513-6560.