Foster
Fostering a Rescue dog can be one of the most fulfilling experiences you will ever have.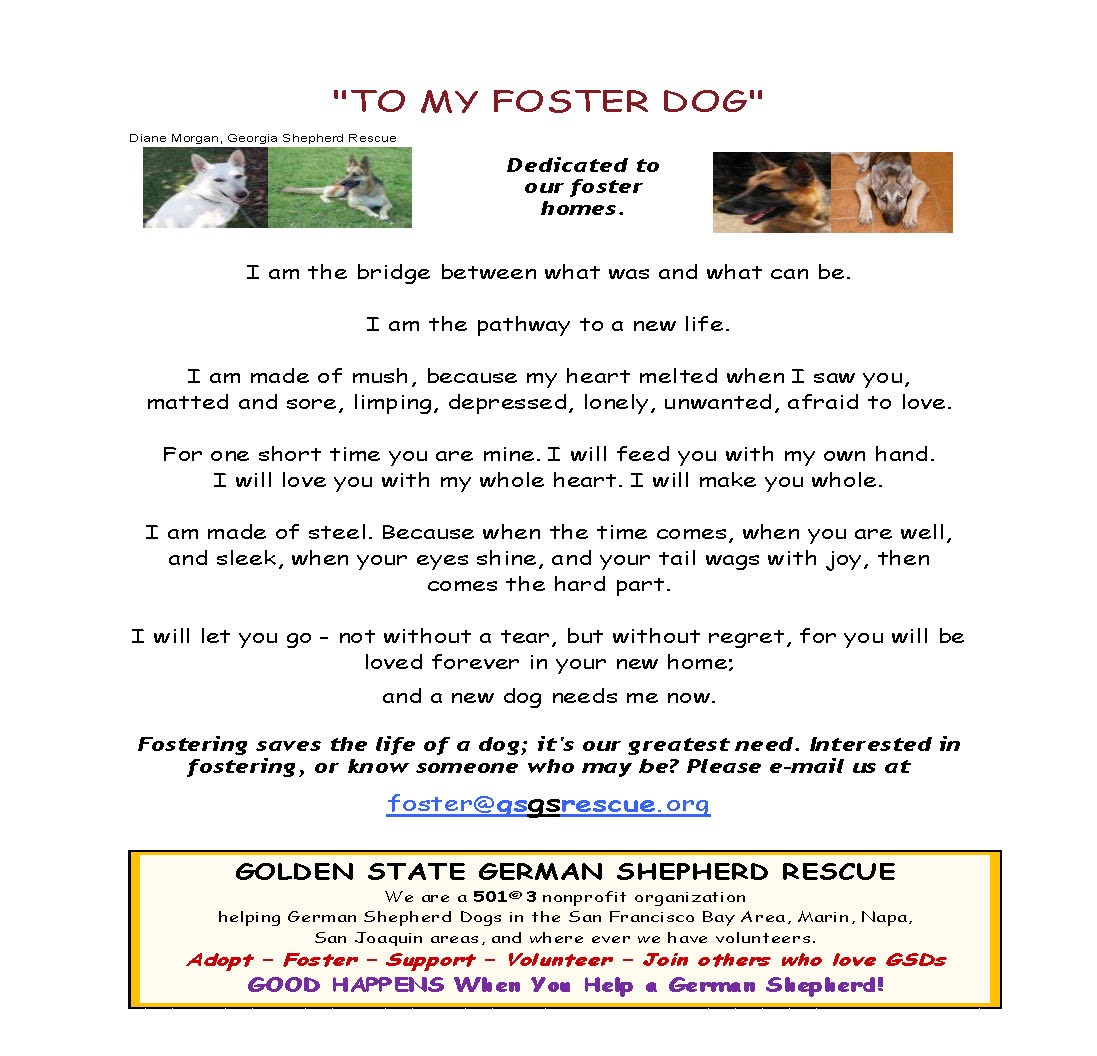 There are many special German Shepherds without permanent homes who need someone willing to give them a second chance. GSGSR strives to have every one of our Rescue dogs in a foster home as that is the best way possible to find out about its temperament and personality and ultimately what kind of home it needs. Sometimes the dog just needs a recovery period from time at a shelter facility. The more we know about the dog, the better we are able to find it the right forever home.
GSGSR provides food, crate and veterinary care for all foster dogs as well as support and information for their foster parents. We require that you live in our area, own your home (or have landlord's permission to have a GSD) with a securely fenced yard. We can also help with transporting the dog to vet appointments and adoption days.
We are committed to finding the appropriate environment for our dogs and foster parents and will take into consideration resident pets and children. Making a good foster match is as important as making a good permanent match. If you have time to foster, we will work to find a suitable dog for your situation.
Fostering can be long or short term so please don't hesitate if you have something planned and can only commit to a couple of weeks. Even a few days can be helpful while someone is on vacation. Sometimes our dogs are adopted in a few days, sometimes in a few weeks and sometimes a little longer. We also need volunteers who can step in to cover vacations.
If you want to try fostering or have any questions about fostering, please fill out our Foster Questionnaire or e-mail us at foster@gsgsrescue.org.
You can also help by printing out our flier and posting it in locations such as your local coffee shop, vet's office, pet food supply store or elsewhere in your community.
There are no dogs at the moment; please check back soon.
See Also: